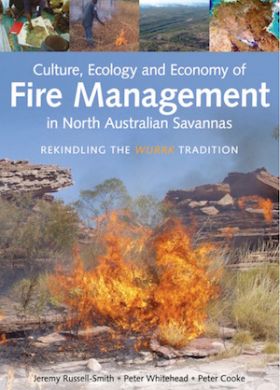 PUBLICATION DATA:

ISBN-10: 9780643094024

LANGUAGE:

English

PAGES:

416 pages, 245 x 170 mm

PUBLISHER:

CSIRO Publishing

PUBLISHED:

December 2009

PAPERBACK
Summary
Available from CSIRO Publishing  this engaging volume edited by Jeremy Russell-Smith, Peter Whitehead and Peter Cooke explores the management of fire in one of the world's most flammable landscapes: Australia's tropical savannas, where on average 18% of the landscape is burned annually. Impacts have been particularly severe in the Arnhem Land Plateau, a centre of plant and animal diversity on Indigenous land.
Culture, Ecology and Economy of Fire Management in North Australian Savannas documents a remarkable collaboration between Arnhem Land's traditional landowners and the scientific community to arrest a potentially catastrophic fire-driven decline in the natural and cultural assets of the region – not by excluding fire, but by using it better through restoration of Indigenous control over burning.
This multi-disciplinary treatment encompasses the history of fire use in the savannas, the post-settlement changes that altered fire patterns, the personal histories of a small number of people who lived most of their lives on the plateau and, critically, their deep knowledge of fire and how to apply it to care for country. Uniquely, it shows how such knowledge and commitment can be deployed in conjunction with rigorous formal scientific analysis, advanced technology, new cross-cultural institutions and the emerging carbon economy to build partnerships for controlling fire at scales that were, until this demonstration, thought beyond effective intervention.
In twelve multi-authored chapters, the book documents key challenges and novel options for addressing chronic landscape-scale fire management issues in north Australian savannas through development of:
collaborative, cross-cultural "two toolkit" approaches
commercially supported environmental services programs
Table of Contents:
Acknowledgements
List of contributors
Chapter 1 Challenges and opportunities for fire management in fire-prone northern Australia Jeremy Russell-Smith, Peter J Whitehead, Peter M Cooke and Cameron P Yates
Chapter 2 Things fall apart: the end of an era of systematic Indigenous fire management David Ritchie
Chapter 3 Change and catastrophe: adaptation, re-adaptation and fire in the Alligator Rivers region Robert Levitus
Chapter 4 Buffalo and tin, baki and Jesus: the creation of a modern wilderness Peter M Cooke
Chapter 5 The language of fire: seasonality, resources and landscape burning on the Arnhem Land Plateau Murray Garde in collaboration with Bardayal Lofty Nadjamerrek, Mary Kolkkiwarra, Jimmy Kalarriya, Jack Djandjomerr, Bill Birriyabirriya, Ruby Bilindja, † Mick Kubarkku and Peter Biless
Chapter 6 Manwurrk (fire drive) at Namilewohwo: a land-management, hunting and ceremonial event in western Arnhem Land Jon Altman
Chapter 7 Landscape-scale fire research in northern Australia: delivering multiple benefits in a changing world Richard J Williams, Damian Barrett, Garry D Cook, A Malcolm Gill, Lindsay Hutley, Adam Liedloff, Bronwyn Myers and John CZ Woinarski
Chapter 8 Fire management and biodiversity of the western Arnhem Land Plateau John CZ Woinarski, Jeremy Russell-Smith, Alan N Andersen and Kym Brennan
Chapter 9 Ecological thresholds and the status of fire-sensitive vegetation in western Arnhem Land, northern Australia: implications for management Andrew C Edwards and Jeremy Russell-Smith (adapted from the International Journal of Wildland Fire, reproduced with permission)
Chapter 10 Fire and biodiversity monitoring for conservation managers: a 10-year assessment of the 'Three Parks' (Kakadu, Litchfield and Nitmiluk) program Jeremy Russell-Smith, Andrew C Edwards, John CZ Woinarski, John McCartney, Sarah Kerin, Steve Winderlich, Brett P Murphy and Felicity A Watt
Chapter 11 The West Arnhem Land Fire Abatement (WALFA) project: the institutional environment and its implications Peter J Whitehead, Paul Purdon, Peter M Cooke, Jeremy Russell-Smith and Stephen Sutton
Chapter 12 Fire, fuels and greenhouse gases Garry D Cook and CP (Mick) Meyer
Chapter 13 Improving estimates of savanna burning emissions for greenhouse accounting in northern Australia: limitations, challenges and applications Jeremy Russell-Smith, Brett P Murphy, Mick CP Meyer, Garry D Cook, Stefan W Maier, Andrew C Edwards, Jon Schatz and Peter Brocklehurst (adapted from the International Journal of Wildland Fire, reproduced with permission)
Chapter 14 Fire management and woody biomass carbon stocks in mesic savannas Brett P Murphy, Jeremy Russell-Smith, Felicity A Watt and Garry D Cook
Chapter 15 Fire management futures: new options for environmental and socioeconomic benefit Peter J Whitehead, Jeremy Russell-Smith and Peter M Cooke