2013•11•07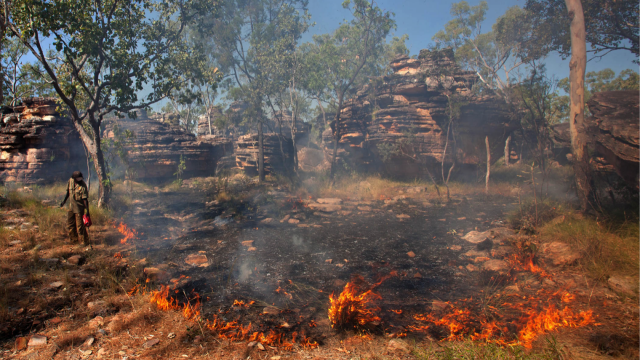 WALFA Ranger Ray Nadjamerrek demonstrates early dry season burning techniques in West Arnhem Land, Australia. Photo: Warddeken Land Management
Can savanna burning projects deliver measurable greenhouse emissions reductions and sustainable livelihood opportunities in fire-prone settings?
Savannas constitute the most fire-prone vegetation type on earth and are a significant source of greenhouse gas emissions. Most savanna fires are lit by people for a variety of livelihood applications. 'Savanna burning' is an accountable activity under the Kyoto Protocol, but only Australia, as a developed economy, accounts for emissions from this source in its national accounts. Over the past decade considerable effort has been given to developing savanna burning projects in northern Australia, combining customary indigenous (Aboriginal) approaches to landscape-scale fire management with development of scientifically robust emissions accounting methodologies. Formal acceptance by the Australian Government of that methodology, and its inclusion in Australia's developing emissions trading scheme, paves the way for Aboriginal people to commercially benefit from savanna burning projects. This article describes the Australian experience and explores options for implementing community-based savanna burning emissions reduction projects in other continental savanna settings, specifically in Namibia and Venezuela. These latter examples illustrate that savanna fire management approaches potentially have broader application for contributing to livelihood opportunities in other fire-prone savanna regions.
This article is part of a Special Issue on "Climate Change Mitigation and Adaptation with Local Communities and Indigenous Peoples" edited by Kirsty Galloway McLean, Ameyali Ramos Castillo, Edwin Castellanos, and Aqqaluk Lynge.